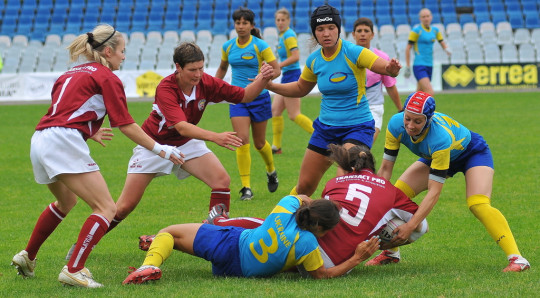 Ukraine (blue) in action against Latvia last weekend
Watch out leading rugby nations of Europe, the Ukraine are coming...
Before 2009 they were the largest European nation that had never fielded a women's rugby team
In 2009 the entered the European sevens for the first time. After a heavy defeat in their first game, they recovered to win finish third.
In 2010, lessons learned, they stormed the Division 3 championship, scoring 182 points in seven games while conceding only one try, demolishing pre-tournament favourites Hungary in the final.

What its like to play the Ukraine...

Last weekend, in Division 2, they did it again. Only more so. This time - against theoretically tougher opposition - they blasted their way to 300 point in sevens games, again letting in but one try. The closest game was a 31-0 thrashing of Belgium, while their semi-final and final saw then rack up 88 points against the Czech Republic and Switzerland - two pretty decent teams.
And in 2012? With Ukrainian feet under the top table - and World Cup qualification to be decided - there will be a few nations looking a bit nervous. Teams like Netherlands, France and Spain probably have little to worry about, but for other countries likely to be scrambling for the last couple of European places at Moscow 2013 it looks like a pretty serious rival has appeared, almost from no-where. Russia will be definitely pleased that the hosts will not have to qualify!
Beyond that... obviously this explosion has a lot to do with the Olympics, though there must have been something there before 2009 for the Ukrainian RFU to build on. The big question - and the big test of the IRB's policy in promoting sevens to expand the game - will be whether or not the Ukraine can or even want to transfer their sevens skills into the more serious and testing XVs game. Here's hoping they will!